Alright! Here is the rundown of last weekend's joint Birthday Rock Star Party!
First, I should mention that we are not those people who invite
everyone
in our child's class. We allowed them to invite as many friends as the age they are turning. So, since this was combined and Ella is 5 and Evangeline is 3...we had 8 guests, including our children. I have always liked this method better than inviting a house filled with 30 kids and therefore...inviting chaos.
The Invites
We made these half on the computer and half from paper. I designed the information and we printed it onto white cardstock. Then we Put it onto black cardstock, used dimensional foam dots to apply sparkly stars and other symbols and used Stickles to make the words ROCK STAR glittery.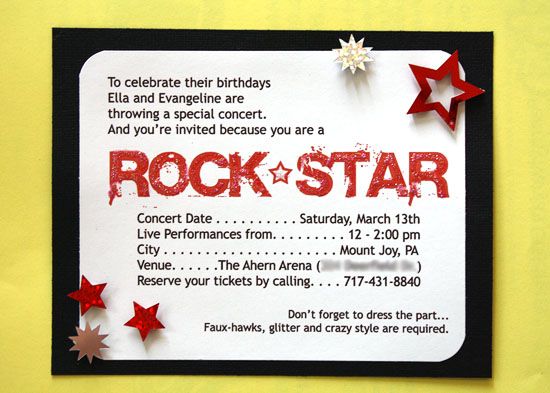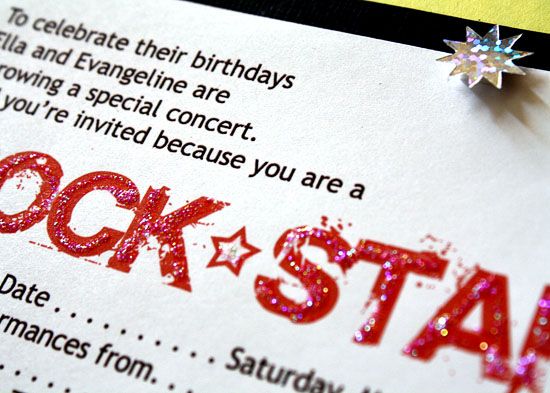 The Set-Up
Our joint birthday presents for the girls was a stage for our play room. I thought up the basic plans and idea and Matt executed it perfectly. We used MDF and 2x6" underneath for support and height. We painted it black (and soon a large white star will be painted in the center). It fits into the corner of our room.
Then I purchased two rectangular plastic tablecloths at WalMart ($2/each) and hung them from the ceiling behind the stage. I also purchased large foil stars in red and gold and smaller foil stars in silver (also from the Party section of WalMart). I used fishing line and white thumbtacks to hang the stars above the stage.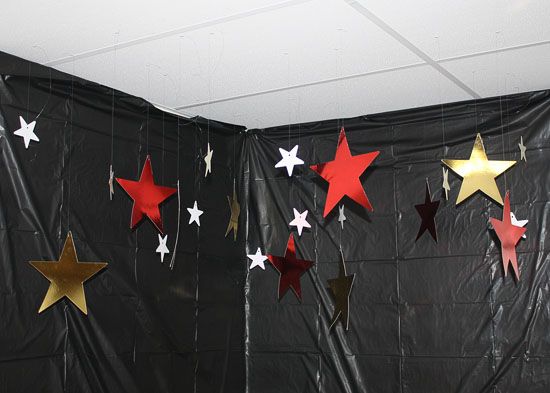 We also purchased a package containing 8 pairs of Rock Star sunglasses in the WalMart party section for $2.00
The Backstage Passes
I designed these Backstage Passes for each guest, personalized with their name. Here is the front and the back.
When Guests arrived I met them at the door, wearing my backstage pass which said "TOUR MANAGER". I asked for each guest's name and checked my list to make sure they were VIP members. Then I gave each their backstage pass and let them choose a pair of the Rock Star sunglasses.
The Craft
Once all of the guests arrived we sat down at our table and each guest got a microphone to personalize. I started with a toilet paper roll. I stuffed it with crumpled aluminum foil for stability. Then used black duct tape to tape across the bottom hole and then wound the black duct tape up the rest of the roll, going over the top edge. I folded the tape over the top edge. Then I made foil balls and hot-glued them to the top of each taped roll.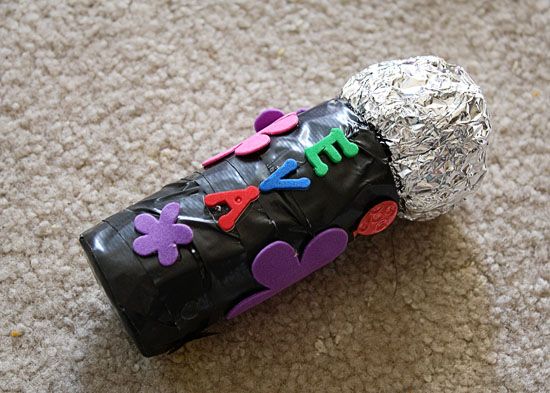 At the table I had an assortment of adhesive backed foam stars, shapes and letters. Each child wrote their name and then embellished their mic with stars and other foam shapes. Here's Evangeline holding her microphone.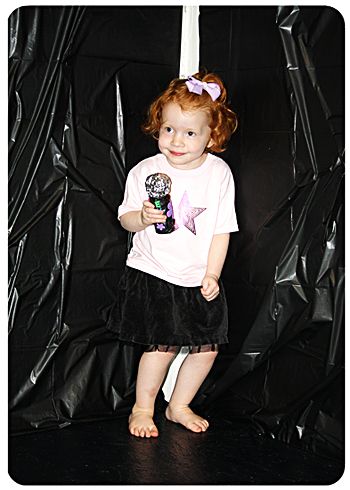 The Activity
We headed downstairs to the Concert. We had the stage set up and had put out at least one instrument for each child if they wanted it. We had a tambourine, maracas, drums and small toy pianos. All of these things we already owned. I had made a mix CD of kid-friendly dance songs and we put the music on and let them dance, play and sing their hearts out. They LOVED it!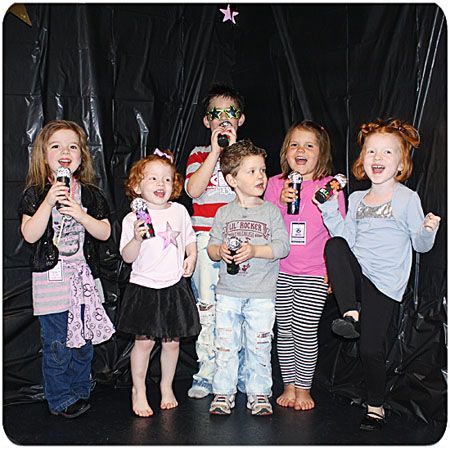 The Cake
I made a guitar shaped cake and decorated it as a hot pink electric guitar. I used a Wilton pan, but there is a template to cut a guitar from cake on the Family Fun website
here.
The Favors
I'm not a big fan of the small gift bag of favors, so each child got to take home their microphone, backstage pass and rock star glasses as their favors. They seemed more than excited with those items. Here Jackson displays his sweet glasses, backstage pass and stellar drum moves.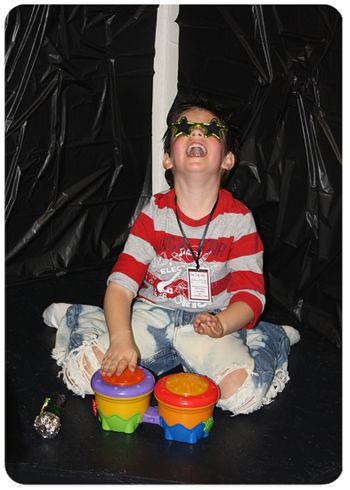 It was a fantastic party. The kids were happy as clams and there wasn't too much work to do during the actual party time. Just some prep and then we let them go wild. It was our most successful party yet.