One of my besties had a nasty break up last weekend. I knew I could call her and give the usual
"You're so much better off without him."
and "
You're too good for him
" shpeel, and even though those things are true, did they ever actually make anybody feel better in the throws of the heartbreak?
I called her and let her talk about what she wanted to and the following day I planned and executed
The Break Up Survival kit
. The kit is broken up into three sections which walk you through the emotional roller coaster that IS break-up:
Sadness - Anger - Empowerment.
Let's go through the steps to make your very own break-up kit for a girlfriend in need. You start off with a Mix CD with tracks broken up into the phases. My track list is included with each phase.
PHASE 1 : SADNESS
(
package
contents:
a favortie chick flick, a bag of microwave popcorn, decorative tissues, milk duds in altered box)
This is an unavoidable step. Even if you broke it off, there is still a period of mourning that must be respected. Let's face it. Right after a break-up you just want to wallow in it and know that others are suffering in the world. Packed into your first gift bag are the following items.
- You don't really want to go out of the house for those first few days. Stay in your pj's and watch this chick flick (one of my favorites) while munching your popcorn.
- After your movie popcorn, finish it off with these Milk Duds. The message on the box was made just for you. A little reminder that, hey, we've all been there. We've all fallen for a boy, only to realize later he was a total dud.
- Cute tissues. There will be crying jags, so keep these cute tissues in your purse at all times so you can pull it together when you burst out crying during your shift at work.
- Pop in your Mix CD and listen to the following songs, locked in your room, sobbing uncontrollably and wallow in the fact that this part just sucks.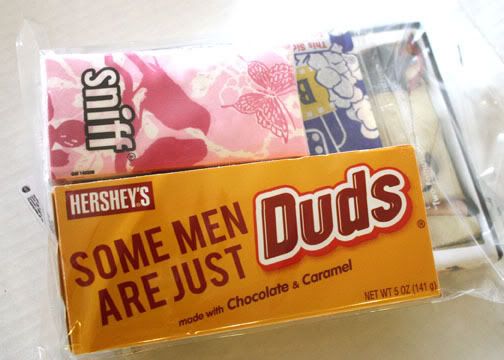 Track 01:
Everybody Hurts
by REM
Track 02:
Another Lonely Day
by Ben Harper
Track 03:
Breakable
by Ingrid Michaelson
Track 04:
Nothing Better
by The Postal Service
Track 05:
Torn
by Natalie Imbruglia
Track 06:
The Choking Kind
by Joss Stone
PHASE 2 : ANGER
(
package contents:
punching balloons, blank journal with altered cover that reads "BITTER", an optional voo-doo doll)
Go ahead. Get angry! Get wicked pissed! Your period of mourning is over and now you are able to give way to the feelings that he used you, treated you bad and acted like a jerk. He wasted your time and broke your heart. And you're angry as hell.
- Start off with some solid physical aggression therapy. These Punching Balloons will make you feel much better. Feel free to scream and swear while punching.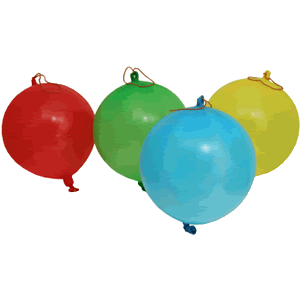 - Use this blank journal to write some seriously heavy poetry about hurt and hatred and sadness. Maybe later you'll turn it into a best selling work. Or better yet, turn it into lyrics and get a Grammy for your pain and suffering…it worked for Gwen Stefani.
- Grab your mix cd and listen to the following tracks. Drive in your car, roll the windows down and scream the words at the top of your lungs.
Track 07:
Hate (I really Don't Like You)
by Plain White T's
Track 08:
Jerk
by Kim Stockwood
Track 09:
Shut Up
by Black Eyed Peas
Track 10:
That Holy Night
by The Reason
Track 11:
You Oughta Know
by Alanis Morrisette
Track 12:
This Bitter Pill
by Dashboard Confessional
Track 13:
I Will Survive
by Cake
Phase 3 : EMPOWERMENT
(
package contents:
Framed wall art, Old Navy gift card, peppermint chapstick)
Whew! You finally made it to that special place. You have realized you dodged a serious bullet when you went through the break up. He's the loser and you are a fabulous, beautiful, vixen…ready to get out there and date again because any guy would be LUCKY to have a chick like you.
- Hang this picture in your house where you will see it often and remember that you are going to be happy. Happy that you got away from him before it was too late and happy that you are living single and loving it!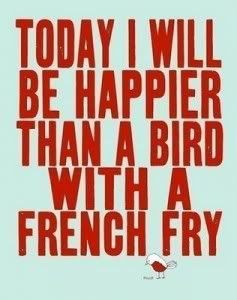 - Now that you're empowered, the guys are flocking to you. Use this Old Navy gift card to go out and buy some foxy clothes for your return to the dating world. Nothing builds a woman's confidence like new threads to step out with.
- The peppermint chapstick will make your first kiss with your new man (or slew of men) soft, supple and memorable.
- Grab your mix cd and listen to the following tracks. Pop it in your home stereo, grab your roommates and dance all around your living room with wild abandon while you celebrate your freedom. You are ready to reclaim your happiness! It may still get hard at times, but you have your friends, wisdom and time on your side.
Track 14:
In a Little While
by U2
Track 15:
Love
by Sade
Track 16:
I Really Don't Think So
by Priscilla Ahn
Track 17:
With a Little Help from my Friends
by Joe Cocker
Track 18:
Here Comes the Sun
by the Beatles
Track 19:
Single Ladies
by Beyonce
Track 20:
Survivor
by Destiny's Child