A few years back I had a bunch of people ask what camera I use to take my photos. Back then I was shooting with a normal...everyday...little Sony digital DSC-W5. Fits in my purse. No lenses to lug around.
And the best part?
Set on auto mode with the flash turned off. No aperture and ISO for me...I didn't really know what those things were back then. So how did I get such good photos? The answer.....
Photoshop Actions.
So just what are "actions"? Say a fancy-shmancy professional photographer takes some photos and loads them onto her computer to enhance (or "proof") them. She might sharpen the image. Adjust the lighting. Enhance certain colors...all to get a certain effect. As she proofs her photos, our imaginary photographer records and saves every step that she takes. She can then save all of these steps and turn them into an "action".
So, an action is a set of photo altering steps used to achieve a certain look. Get it? So instead of a amateur like me actually learning about how to use every single little tool in Photoshop to make a photo black and white and enhance the contrast...I can just buy some genius' Photoshop Actions and they do it for me.
You plunk any photo into Photoshop and hit a play button and the steps do ALL of the work for you. And there are infinite numbers of actions to try...from making your photos into comic book characters, making them look warn and vintage, sharpening, rounding corners...and much much more.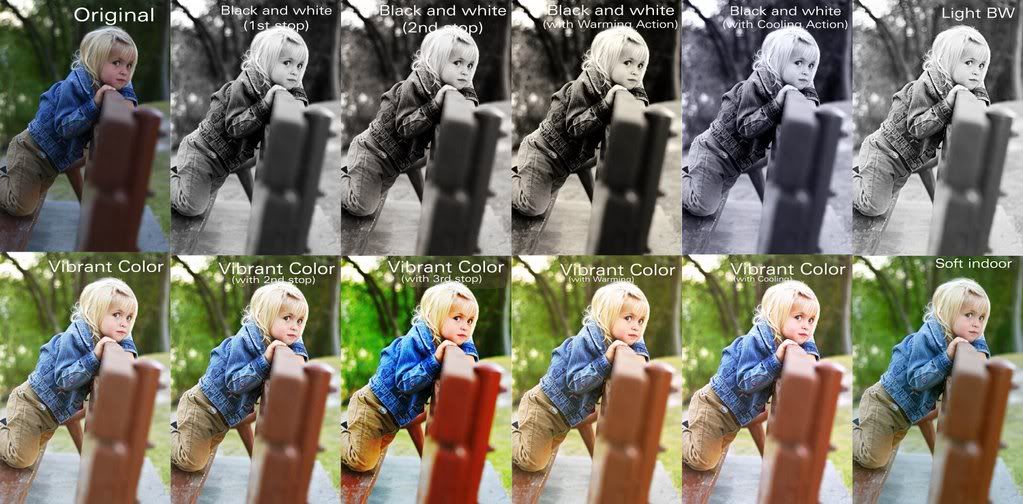 (click to enlarge. Courtesy of Mindy's Photo Actions)


You can always use Google to search for free actions to try out. A good resource for free actions is
Action Central
and the
Adobe Photoshop Exchange
. The Pioneer Woman offers a
free set
on her blog that I LOVE.
You can also buy some if you can't find free ones you like or find a certain photographer whose proofing you really love. Before you purchase any Action sets make sure they are compatible with your particular program. Some are only for Photoshop Elements and others only run in regular Photoshop.
A popular site is
Itty Bitty Actions
. Their sets run for around $100 and you get a large number of actions (around 50). But my favorite set is perfect, inexpensive and worth every penny.
Mindy's Photo Actions
Vibrant Color set. I bought them at
http://mindysphotoactions.blogspot.com/
. Mindy herself will help you install them and answer any questions you may have. This makes them perfect for a beginner who is unsure about installation and utilizing them. She sells them for cheaper in small sets so you can just buy what you want and add more later as desired. I use her "Vibrant Color" on pretty much every photo I take and often use her "Soft Indoor Light" as well. Here's a little before and after so you can get the feeling of what these actions can do for you.
BEFORE:
AFTER:
I'm not being overly dramatic when I say that Actions have changed my life. They have enhanced my photographs so much that I felt proud enough of family photos recently to frame them and hang them in my Living Room. I just can't live without my (I mean Mindy's) Actions and my freebie Pioneer Woman set.
What do YOU think?
. Have you ever tried Photoshop Actions? Would you like to try them? Do you think they are worth the money or do you prefer more traditional photos? Do you have a favorite set you want to share?
P.S. Stay tuned for a coming lesson on installing and using actions in Photoshop and Photoshop Elements.